Corporate Chair Massage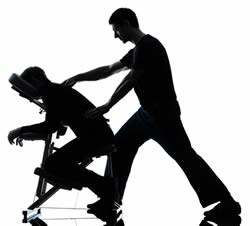 Corporate chair massage can be performed in the open work environment or can be performed in private room such as conference or work room. The massage therapist uses a massage chair in the office. Selection is dependent upon the client's comfort and space available in the environment.  Most massage sessions last between 10-15 minutes, but can last longer, and the employee is fully clothed.  The massage therapist uses techniques that focus on the upper part of the body – neck, head, shoulders, back, and arms.
The ultimate goal of corporate chair massage is to help create a healthy and more peaceful work environment by reducing stress levels at work.  Increased stress levels can increase anxiety, headaches, lower self-esteem, irritability, back pain, exhaustion and poor concentration.
Employee benefits
Reduces adverse effects associated with repetitive work tasks and prolonged sitting positions
Relieves tension and tired muscles
Improves good feelings about the workplace
Reduces stress which inhibits the immune system
Energizes employees and motivates them to return to work
Employer benefits 
Increases employee performance and productivity
Appeals to a broad employee base
Shows that the employer cares
Reduces employee absenteeism
Enhances employee loyalty
Requires no overhead to maintain and no capital investment for start up
Fortune Magazine – Sometimes the best antidote to corporate stress is hands-on management at Apple Computer, NBC, Johnson & Johnson, Merrill Lynch, Wells Fargo Bank, and a host of other companies that have hired massage therapists to rejuvenate frazzled employees by kneading them…
Newsweek – At Boeing and Reebok, headaches, back strain and fatigue have all fallen since the companies started bringing in massage therapists…doctors are prescribing massage to help patients manage stress and pain.
Touch Research Institute – It has been proven through extensive research that massage can consistently improve performance and productivity in the workplace as well as decrease the amount of absenteeism and job related accidents.
International Journal of Neuroscience – Massages rub employees the right way…a recent study at the University of Miami Medical School showed that after a 15 minute massage, people were more alert, less stressed and could perform math problems in half with half the errors.